ArtScience and Synergetica Lab present Sphæræ at Ars Electronica 2013 with a jam-packed program of performances.
the ArtScience Interfaculty and Synergetica Lab present a series of multi-sensory performances and installations in the context of synthetic biology. Transpiring inside Sphæræ, an inflatable multi-dome pavilion created by Cocky Eek, these spherically projected artworks evoke the transformation of prebiotic conditions into the complex behavior and dimensionality of synthesized living cells.
Sphæræ will be in front of the Ars Electronica Center on the bank of Danube River, offering a full program of performances, talks, and installations during all 5 days of the festival, September 5th – 9th.
With works by Martijn van Boven (NL), Evelina Domnitch & Dmitry Gelfand (BY/NL), Cocky Eek (NL), Eduard Haiman & Michael Holub & V4W.ENKO & Vadim Smakhtin (RU/UA), Theun Karelse (NL), Francisco López (NL/SP), Bas van Koolwijk (NL),  Matthijs Munnik (NL), Eric Parren (US), Nenad Popov & Erfan Abdi (NL), Paul Prudence (UK), Joris Strijbos & Yamila Rios (NL), Dieter Vandoren (BE) & Mariska de Groot (NL) and an introduction by Arthur I. Miller.
program: Ars Electronica
An overview of the performances is presented in this project blog-post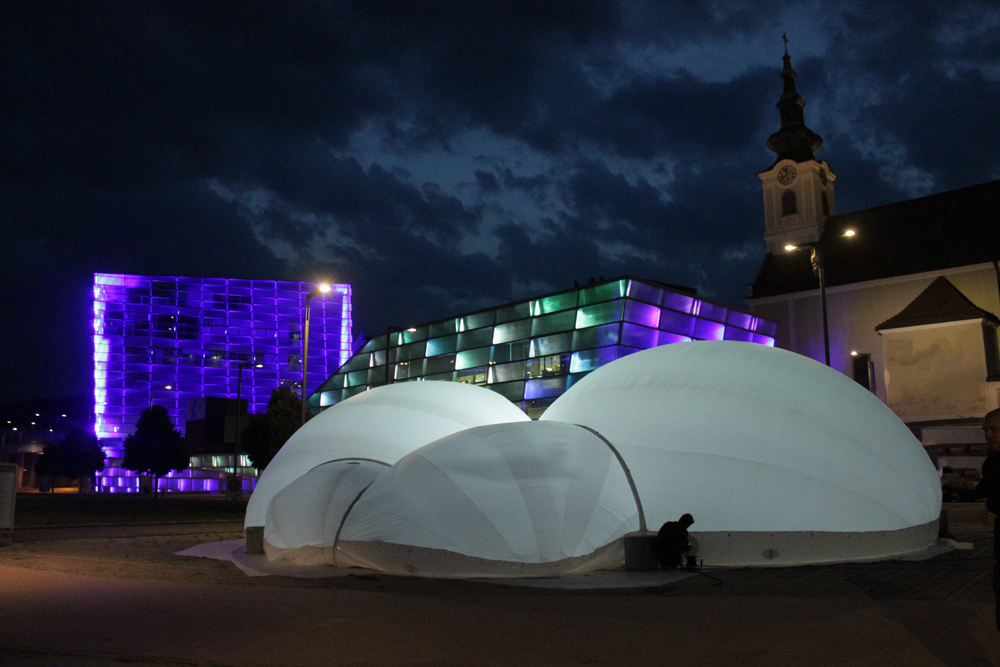 Sphaerae standing in front of the Ars Electronica center without its cover.
10.000 Peacock Feathers in Foaming Acid by Dmitry Gelfand & Evelina Domnitch.
Runaway AV by Bas van Koolwijk.
Shadow Puppet by Dieter Vandoren and Mariska de Groot.